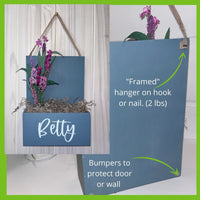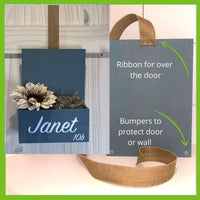 CHI OMEGA WHITE INTERIOR CUSTOM SIGN | College Living
Description
These lightweight interior signs measure approximately 8.5" wide and 12" tall. These darling personalized sighs are perfect for dorm doors, sorority houses, or walls, and hang safely with the included damage free 3M command hook.
The sign features a small planter box for our beautiful subscription decor shipped monthly or seasonally.
Your
 room will always look in style and in season!
Information
• The colors and metal tones that you see on your screen are representative and may vary slightly from the actual product.
• All of our signs are handmade and custom, which means some
minor imperfections are normal and add to their beauty and charm.
• We are happy to provide a proof for our customers by request before production. We will contact you after your order is placed if we ever have any questions!
• Please click HERE for sign installation options and instructions.
• If you have any questions, please email social@entry-envy.com and we will be glad to help!
Details
Vertical: 9" x 24"
Horizontal: 24" x 11"
Over the Door: 9" x 12"