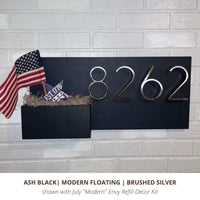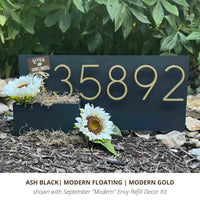 BLACK HORIZONTAL MODERN NUMBER CUSTOM HOUSE SIGN | Unique Housewarming Gift
Description
Unique, wood custom home identification sign with metal address numbers to welcome your guests and delivery drivers. The sign features a small planter box for our beautiful, modern seasonal subscription decor shipped each month to keep your entry beautiful!
Need more options? Click
HERE
 to design your own custom sign from scratch.
Information
• The colors and metal tones that you see on your screen are representative and may vary slightly from the actual product.
• All of our signs are handmade and custom, which means some
minor imperfections are normal and add to their beauty and charm.
• We are happy to provide a proof for our customers by request before production. We will contact you after your order is placed if we ever have any questions!
• Please click HERE for sign installation options and instructions.
• If you need have any questions, please email social@entry-envy.com and we will be glad to help!
Details
Vertical: 9" x 24"
Horizontal: 24" x 11"
Over the Door: 9" x 12"
Perfect front door addition
Because I have a narrow, recessed front door area, Jenn installed my unit on the front of my garage and sidewalk to the front door. The house numbers and changing planter look so awesome and welcoming when you pull into my driveway 😍. I get lots of great comments about it! Absolutely perfect!!