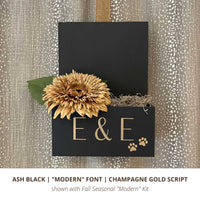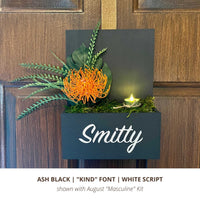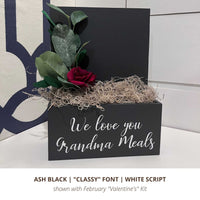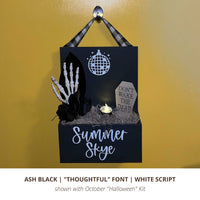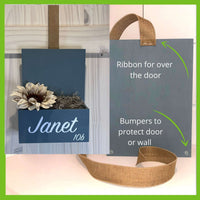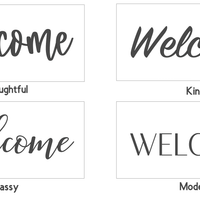 BLACK INTERIOR CUSTOM SIGN | Custom Gift
Description
Unique, wood custom home identification sign with a custom greeting of your choice. These lightweight interior signs measure approximately 8.5" wide and 12" tall. They are perfect for apartment doors, independent living units, and assisted living facilities. The sign features a small planter box for our beautiful subscription decor shipped monthly or seasonally. These are fabulous gifts for our beloved seniors!
Please note, these signs are not designed for exterior use as they have not been properly sealed from the elements.
Information
• The colors and metal tones that you see on your screen are representative and may vary slightly from the actual product.
• All of our signs are handmade and custom, which means some
minor imperfections are normal and add to their beauty and charm.
• We are happy to provide a proof for our customers by request before production. We will contact you after your order is placed if we ever have any questions!
• Please click HERE for sign installation options and instructions.
• If you have any questions, please email social@entry-envy.com and we will be glad to help!
Details
Vertical: 9" x 24"
Horizontal: 24" x 11"
Over the Door: 9" x 12"
I absolutely love these signs!
I got the little box and a regular sign customized to my exact wishes. Both are so beautiful and I get excited every month to see what fillers have come. The hanging sign has black gauze because it's a beautiful blue and I needed it to be creepier for fall/Halloween vibe. So happy with these!! Thanks Entry Envy!
Interior sign
This was an amazing purchase and the customer service was excellent
It gets better with each new month!
Month 3. Wow! I so love this month's sign. Excellent quality and outstanding design elements. I've loved every month and have cheated a bit by including a few elements from the previous month with the new month... This month I kept the cinnamon sticks from month 1 and the lights from month 2...
Thank you, Jennifer, for always delighting and inspiring with each new box. Cannot wait to see what comes for Christmas!
All I Can Say is... LOVE!!
My box is everything I thought it would be & more. It arrived very quickly after being shipped. I had seen a sneak peak of the options of what could possibly be in the box that they were sending me and to my amazement it was exactly the flower that I wanted to be in the box!! I was so excited when I saw that. What else could I do but IMMEDIATELY put everything together. So fun & so pretty right inside my front door. Can't wait for next month's decor to arrive! Thank you team Entry Envy!!💕
Hoo hoo
I love the 🦉 owl. I used last Decembers candle 🕯️ but it's running out of steam 😥 Wish every month had a cute little light.