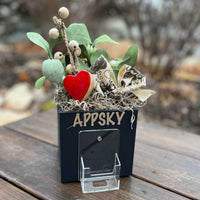 Business Envy Card Holder
Description
Finally, a beautiful way to display your business card in your office, trade show, open house, reception area, and conference rooms. The best part is that you can subscribe to monthly or quarterly Envy Refill Decor Kits. Let's face it, faux floral gets dry, dusty and old looking. Each kit includes a fresh base cover such as moss and a simple decor pick. Two minutes of time and decorating is done!
Your faux floral will always look fresh and timely. One container. Many purposes. All the reasons to celebrate.
Monthly kits ship on the 22nd of each month.
Quarterly kits ship on the following schedule: 
February 22 (Spring kit ships)




May 22 (Summer kit ships)




Aug 22 (Fall kit ships)




November 22 (Winter kit ships)



Containers are made of wood and are 5" square. Optional bumper pads for the base are available at no charge.

Custom logos and QR codes are also available! Once you add this to your cart a popup window will allow you to add these features or you can use our search tool. Please contact us at social@entryenvy.com if you have any questions or are interested in bulk pricing. 
Information
Need help choosing? Email us a picture for a free virtual consult with our professional designers.
Monthly v. Seasonal Subscription
Jennifer explains the difference so you can make the best choice for you!
click here to subscribe for monthly or quarterly refills
WHICH STYLE DO I CHOOSE?
Entry Envy's designer, Jennifer, takes you behind the scenes to help you choose which style you might like best. Spoiler alert: they are all darling!