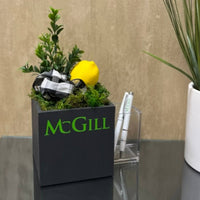 Business Envy Box with Pen Holder
Description
Enhance any of Business Envy boxes with a pen holder. These are beautiful, clear acrylic holders that are mounted with clear adhesive. Custom logos, social handles, and QR codes are also available as add-ons! Once you add this item to your cart, a popup window will allow you to add these features or you can use our search tool. Please contact us at social@entryenvy.com if you have any questions or are interested in bulk pricing. 
Information
Need help choosing? Email us a picture for a free virtual consult with our professional designers.
Absolutely beautiful!!!!
Love-love-love our cardholder!!!
It is so beautiful and attracts people to our stand!
It brings joy to everyone!
I love-love-love Entry Envy! They are doing great job! Always love to see the creations!
A Remarkable Subscription Experience: A Monthly Delight
Entry Envy is an absolute must-try! Their monthly subscription box is a five-star experience that never disappoints. The curated products are exceptional, showcasing a keen eye for quality and uniqueness. The monthly refresh sets them apart, ensuring each box is a delightful surprise.
But the real star here is Jennifer, whose dedication to excellence is truly remarkable. She actively engages with subscribers, seeking feedback, and her passion for the products is evident in every selection. The attention to detail extends to the elegant packaging, making unboxing a joy.
Entry Envy stands out as a shining example in a crowded world of subscription services. I wholeheartedly recommend it to anyone seeking monthly refreshes for their entry, top-notch products, and an owner who goes above and beyond to make the experience out of this world unforgettable!
LOVE
I absolutely love, love, love my signs and the monthly design kits they create! I look forward to receiving my monthly kits and love the little personal touches they provide. Quality is always outstanding!!! Thank you
Love my unique Little Envy!
Yet another winning concept from Jennifer! Love my Little Envy that she custom made for me...and me alone. Per my request she put a cardholder in the front. I personally use this cardholder for daily inspirational quotes! And the quarterly decor that comes with it, that Jennifer hand picks is absolutely gorgeous! Love, love, love everything about this and love Entry Envy!
Monthly v. Seasonal Subscription
Jennifer explains the difference so you can make the best choice for you!
click here to subscribe for monthly or quarterly refills
WHICH STYLE DO I CHOOSE?
Entry Envy's designer, Jennifer, takes you behind the scenes to help you choose which style you might like best. Spoiler alert: they are all darling!