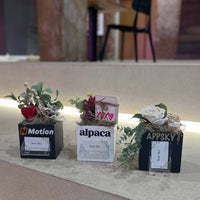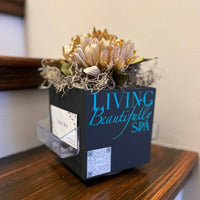 Business Envy Custom Logo Box
Description
Level up your swag! Little Envy custom logo* decor boxes can be creatively branded in so many ways. QR codes, social handles, and business card holders are optional and can be added when you click "add to cart." The beauty is that you can brand one side and the other three can be displayed (so your swag doesn't get thrown away!). Here are a few ways our customers love Little Envy:
Client appreciation gifts

Vendor appreciation gifts

Staff appreciation gifts

Customer restrooms
Closing gifts
Reception area
Business event centerpieces
A reason for account reps to visit their clients and update their Little Envy decor box (monthly or quarterly)
The best part is that you can subscribe to monthly or quarterly Envy Refill Decor Kits. Let's face it, faux floral gets dry, dusty and old looking. Each kit includes fresh a fresh base cover such as moss and a simple decor pick. Two minutes of time and decorating is done!

Your faux floral will always look fresh and timely. One container. Many purposes. All the reasons to celebrate.
Monthly kits ship on the 22nd of each month.
Quarterly kits ship on the following schedule: 
February 22 (Spring kit ships)




May 22 (Summer kit ships)




Aug 22 (Fall kit ships)




November 22 (Winter kit ships)



Containers are made of wood and are 5" square. Optional bumper pads for the base are available at no charge. After ordering, please email your logo to social@entryenvy.com and we will send you a proof before we produce it. For corporate discounts/bulk orders, please email jennifer@entryenvy.com.
* Please note a one-time $40 set up fee for your logo is required and then we can add it to any product in the future for just $10. Please click HERE to add the set-up fee to your cart.
Information
• The colors you see on your screen are representative and may vary slightly from the actual product.
• All of our products are handmade and custom, which means some
minor imperfections are normal and add to their beauty and charm.
• We are happy to provide a proof for our customers by request before production. We will contact you after your order is placed if we ever have any questions!
• If ordering an Entry Envy exterior sign, please click HERE for installation options and instructions.
• If you need have any questions, please select the chat below or email social@entry-envy.com and we will be glad to help!
Amazing gift
I love my business card decor box. My quarterly subscription gives me a smile when it comes in the mail.
Little Envy
I purchased a Little Envy for my office and business cards. What a conversation piece my Little Envy is, in my office. I recommend this as a gift for others with an office, or need to display business cards and to be a statement piece.
#LenderwServantsHeart
Perfect!!
I purchased the little envy boxes for business card holders. I put them on the counters at my core business partners to stand out from the other vendors. It has worked even better than I expected! The ability to customize to your exact need is fantastic! If you're not sure what you want? The Entry Envy owner and staff will have the perfect idea for you!! I Will be ordering more as my business partnerships continue to grow! Great personalized service!
the perfect, personalized gift
Entry Envy signs are a tangible, functional and beautiful item for the hard to buy for friends and family in your life!

Entry Envy signs are available in three styles and while typically positioned by the front door, can also be darling by back doors or side garage doors. Interior signs are designed to decorate apartment, dorm room, and assisted living facility doors!

WEDDINGS | ANNIVERSARIES | NEW HOMES
GRADUATIONS | BIRTHDAYS | HOLIDAYS

Can't decide or need it right now? Order a VIRTUAL GIFT CARD HERE for a sign and choose with or without a refill kit subscription. The recipient will be delighed to design their own sign!
CLICK TO ORDER A GIFT!