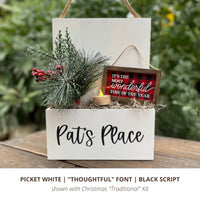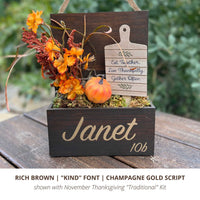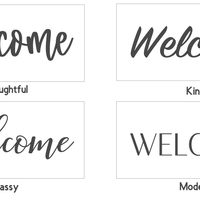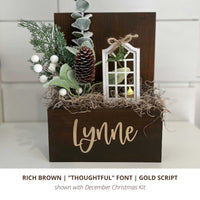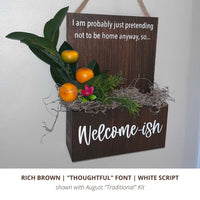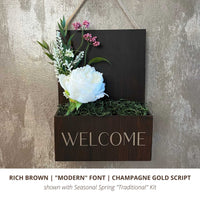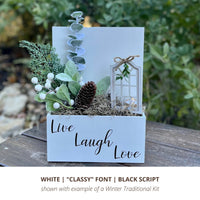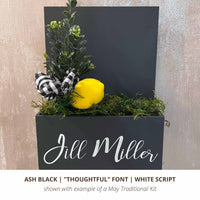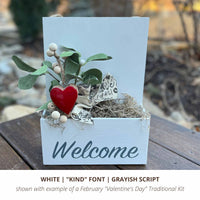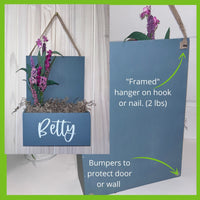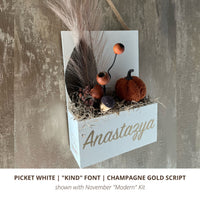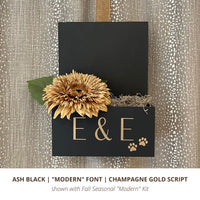 Personalized Sign with Four Seasonal Decor Kits
Description
The perfect gift for grandmas! Unique, wood custom home identification sign with a custom greeting of your choice. These lightweight interior signs measure approximately 8.5" wide and 12" tall and weigh less than 2 pounds. They are perfect for apartment doors, independent living units, and assisted living communities. This $149 special one-time payment include your personalized sign, four seasonal kits, gift wrap and shipping!

The sign features a small planter box for our beautiful faux floral decor that requires no maintenance and always looks great! These are fabulous gifts for our beloved seniors to help them easily find their door, feel at home, and love their space. Not to mention, have a great looking door that will keep the neighbors visiting to see "what they got this time!"
Easy to switch decor (foam block insert stays in box) and provides a nice activity for seniors to look forward to.
Sit on shelf or hang (3M Command damage-free clear hook included)
Personalized sign ships with "winter" traditional decor kit
Next traditional, seasonal decor kits will ship on Feb 22, 2024 (Spring), May 22, 2024 (Summer), Aug 22, 2024 (Fall)
Includes free gift wrap and shipping
Monthly option is also available for $299 which includes all the holidays in addition to the seasons such as Christmas, Valentine's Day, Easter, etc. Decor kits ship on the 22nd of each month.
Decor is reusable year to year and can easily be saved and labeled in our nice boxes.
Please note, these signs are not designed for exterior use as they have not been properly sealed from the elements.
Information
• The colors and metal tones that you see on your screen are representative and may vary slightly from the actual product.
• All of our signs are handmade and custom, which means some
minor imperfections are normal and add to their beauty and charm.
• We are happy to provide a proof for our customers by request before production. We will contact you after your order is placed if we ever have any questions!
• Please click HERE for sign installation options and instructions.
• If you have any questions, please email social@entry-envy.com and we will be glad to help!
Details
Vertical: 9" x 24"
Horizontal: 24" x 11"
Over the Door: 9" x 12"