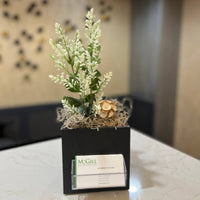 Front Desk Business Card Holder with Custom Message
Description
Finally, a beautiful way to display your business card at your front desk. One side has a cheery message to remind your receptionist to smile and the other side has your business cards. See the spin in action HERE! The message shown is just a suggestion, we can do almost anything you wish!

The best part is that you can subscribe to monthly or quarterly Envy Refill Decor Kits. Let's face it, faux floral gets dry, dusty and old looking. Each kit includes a fresh base cover such as moss and a simple decor pick. Two minutes of time and decorating is done!
Your faux floral will always look fresh and timely. One container. Many purposes. All the reasons to celebrate.
Monthly kits ship on the 22nd of each month.
Quarterly kits ship on the following schedule: 
February 22 (Spring kit ships)




May 22 (Summer kit ships)




Aug 22 (Fall kit ships)




November 22 (Winter kit ships)



Containers are made of wood and are 5" square. Optional bumper pads for the base are available at no charge.

Custom logos and QR codes are also available! Once you add this to your cart a popup window will allow you to add these features or you can use our search tool. Please contact us at social@entryenvy.com if you have any questions or are interested in bulk pricing.  
Information
• The colors you see on your screen are representative and may vary slightly from the actual product.
• All of our products are handmade and custom, which means some
minor imperfections are normal and add to their beauty and charm.
• We are happy to provide a proof for our customers by request before production. We will contact you after your order is placed if we ever have any questions!
• If ordering an Entry Envy exterior sign, please click HERE for installation options and instructions.
• If you need have any questions, please select the chat below or email social@entry-envy.com and we will be glad to help!
the perfect, personalized gift
Entry Envy signs are a tangible, functional and beautiful item for the hard to buy for friends and family in your life!

Entry Envy signs are available in three styles and while typically positioned by the front door, can also be darling by back doors or side garage doors. Interior signs are designed to decorate apartment, dorm room, and assisted living facility doors!

WEDDINGS | ANNIVERSARIES | NEW HOMES
GRADUATIONS | BIRTHDAYS | HOLIDAYS

Can't decide or need it right now? Order a VIRTUAL GIFT CARD HERE for a sign and choose with or without a refill kit subscription. The recipient will be delighed to design their own sign!
CLICK TO ORDER A GIFT!