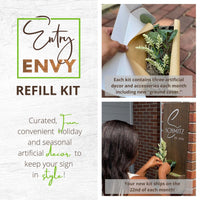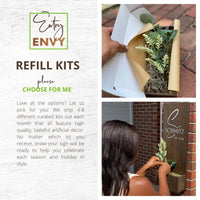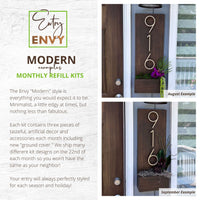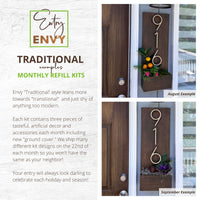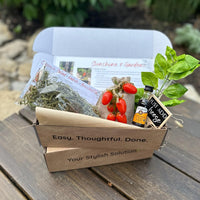 PLANTER BOX FILLER SUBSCRIPTION
Description
Keep your planter box always looking brand new and in season! Entry Envy planter box filler kits include high-quality, unique, handpicked artificial floral decor to quickly update your small planter box sign in just a few minutes. It's your entry's stylish solution for holiday and seasonal decor that will always look beautiful and like you spent hours, when you in reality, you spent two minutes.
Your family and friends will always be delighted to see what you got "this time!"
The monthly subscription kits ship the 22nd of each month to celebrate the upcoming holiday or season. If you have any religious exceptions to the traditional holidays, please note in the comment box at checkout and we will be happy to accommodate. The cost is $29.99 per month.
The seasonal subscription kits ship four times per year on March 22 (Spring), May 22 (Summer), August 22 (Fall), and November 22 (Winter). When you order your product, we will immediately ship the current seasonal kit with it, and then we will ship the next season on the normal schedule date (as outlined above) and your card will be charged $34.99 at that time.
We also offer an annual monthly prepaid option for the first year of $299, or $24.99 per month. After 12 months, your subscription will continue at a $24.99 per month rate until you choose to cancel. 
Easy, convenient, done.

Please let us know if you have any questions about our subscription through the online chat or email us at social@entryenvy.com. Need a sign? Click here to order your sign!
Information
Need help choosing? Email us a picture for a free virtual consult with our professional designers.
Great Monthly & Quarterly Refill Kits!
Absolutely adore these decor refill kits(both the quarterly and monthly) that Jennifer hand picks! I have been getting these since day 1 and recently i have accumulated enough so that i can repurpose them into my own vases/bowl out on my front porch...this is a game changer! Love it!
Monthly v. Seasonal Subscription
Jennifer explains the difference so you can make the best choice for you!
click here to subscribe for monthly or quarterly refills
WHICH STYLE DO I CHOOSE?
Entry Envy's designer, Jennifer, takes you behind the scenes to help you choose which style you might like best. Spoiler alert: they are all darling!