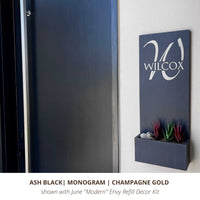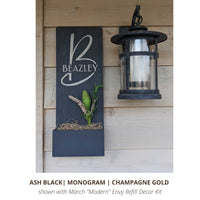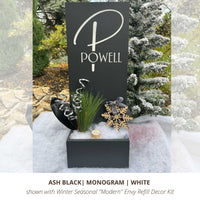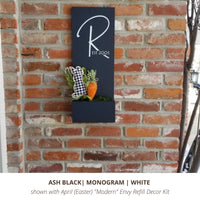 BLACK VERTICAL HAND PAINTED CUSTOM HOUSE SIGN
Description
Unique, wood custom home identification sign with your last name or monogram to identify your home, welcome your guests, and reassure your delivery drivers they are at the correct house. The sign features a small planter box for our beautiful, modern seasonal subscription decor shipped each month to keep your entry beautiful!
We will send a proof before production for your approval. You can add "Est. 20__" for no additional charge if you wish. Please include in the custom line field. 

Need more options? Click HERE to design your own custom sign from scratch.
Information
• The colors and metal tones that you see on your screen are representative and may vary slightly from the actual product.
• All of our signs are handmade and custom, which means some
minor imperfections are normal and add to their beauty and charm.
• We are happy to provide a proof for our customers by request before production. We will contact you after your order is placed if we ever have any questions!
• Please click HERE for sign installation options and instructions.
• If you have any questions, please email social@entry-envy.com and we will be glad to help!
Details
Vertical: 9" x 24"
Horizontal: 24" x 11"
Over the Door: 9" x 12"
Entry sign
I love it! It was beautifully packaged upon opening. Almost didn't want to continue to open. 😉 Sign was very nicely made and the hanging instructions were easy to understand. Bonus was all the hardware was included. Definitely recommend!
My front porch is in Style
Love my Entry Envy sign! I love knowing my front porch is in style and in season!
Quality
Entry Envy was great! From the shopping experience to unboxing (beautiful!), to hanging it up outside, everything was seamless. The product itself is sturdy and looks great - beautifully made with attention to detail. The decor is easy to install/replace with the next month's and did not fly away in the wind. I'm very happy with the product and recommend it as a gift for yourself or someone else!
What an amazing concept and what an awesome handcrafted custom sign/monthly decor kit
I can't say enough about what the Owner of Entry Envy Jennifer has done here. This is such an amazing concept! I absolutely love the Custom Sign that she handcrafted for our front porch...the quality of her work is outstanding and not just that, the decor inserts that she includes in the monthly refill kit that i signed up for is absolutely gorgeous & adorable! This takes my front porch entryway decor to a whole another level of chicness! Well done Jennifer! I highly recommend Entry Envy!