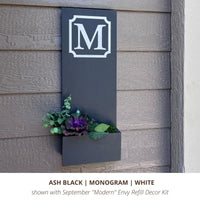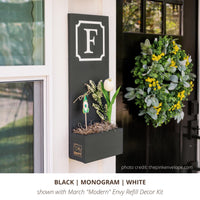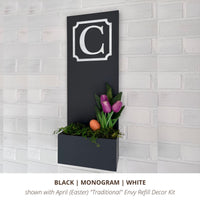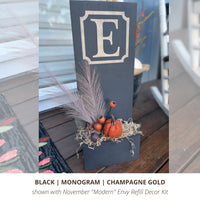 BLACK VERTICAL HAND PAINTED CUSTOM HOUSE SIGN
Description
Unique, wood custom home identification sign with your last name or monogram to identify your home, welcome your guests, and reassure your delivery drivers they are at the correct house. The sign features a small planter box for our beautiful, modern seasonal subscription decor shipped each month to keep your entry beautiful!
We will send you a proof before production since every initial and last name look different!

Need more options? Click HERE to design your own custom sign from scratch.
Information
• The colors and metal tones that you see on your screen are representative and may vary slightly from the actual product.
• All of our signs are handmade and custom, which means some
minor imperfections are normal and add to their beauty and charm.
• We are happy to provide a proof for our customers by request before production. We will contact you after your order is placed if we ever have any questions!
• Please click HERE for sign installation options and instructions.
• If you have any questions, please email social@entry-envy.com and we will be glad to help!
Details
Vertical: 9" x 24"
Horizontal: 24" x 11"
Over the Door: 9" x 12"
I'm so in love with my new entry way
Love, love, LOVE my new welcome sign! We've used a welcome sign in our tax business for years but when I saw the Entry Envy signs it inspired me to make it so much more. I reached out to the owner with my idea and Jennifer worked with me to create my vision. Instead of having our logo put on the sign she attached business card holders. It helped declutter the counter and it makes a great presentation for our clients. Right now it's standing on the counter but it can also be mounted on the wall to open our counter even more. My staff was super excited to be able to decorate the box and cannot wait until our delivery comes next month so they can change it out.
We pride ourselves on our high level of service and presentation is very important to us. This Entry Envy sign makes an impressive statement while being welcoming. The quality it top notch and delivery was quick.
I'm already thinking of new ideas to use Entry Envy signs for my business! I'm thinking my next project will be a literature holder for my trade show booths!
I am thrilled with my entry box. I saw an unboxing on the pink envelope and ordered immediately. My first shipment was Easter. So cute! I also like that everyone doesn't get the exact same items. Can't wait for May😊
High Quality Product
I'm so very pleased with the Entry Envy I purchased for my dad. It's very high quality and absolutely beautiful! I highly recommend Entry Envy!