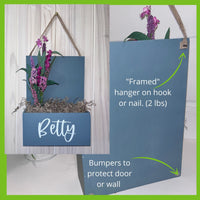 WHITE INTERIOR CUSTOM SIGN
Description
Unique, wood custom home identification sign with a custom greeting of your choice. These lightweight interior signs measure approximately 8.5" wide and 12" tall. They are perfect for apartment doors, independent living units, and assisted living facilities. The sign features a small planter box for our beautiful subscription decor shipped monthly or seasonally. These are fabulous gifts for our beloved seniors!
Please note, these signs are not designed for exterior use as they have not been properly sealed from the elements.
Information
• The colors and metal tones that you see on your screen are representative and may vary slightly from the actual product.
• All of our signs are handmade and custom, which means some
minor imperfections are normal and add to their beauty and charm.
• We are happy to provide a proof for our customers by request before production. We will contact you after your order is placed if we ever have any questions!
• Please click HERE for sign installation options and instructions.
• If you have any questions, please email social@entry-envy.com and we will be glad to help!
Details
Vertical: 9" x 24"
Horizontal: 24" x 11"
Over the Door: 9" x 12"
So cute!
I got a sign for my apartment. I love it and have gotten lots of compliments about it already. I've gotten 2 refill kits so far and loved them both!
All my neighbors and friends compliment me!
I recently moved into an apartment, and the first week I moved in I had two of my apartment building neighbors tell me how cute my door sign was! Not only does it set my apartment door completely apart from everyone else's but its so fun to change out the decorations every month. It's so easy to manage my subscription too, if I don't want a certain month I can just pause!
Easy Condo Door Decor
Love my entry sign and not having to worry about decorating it!!!!