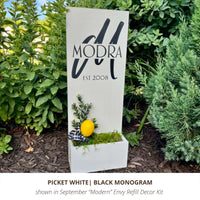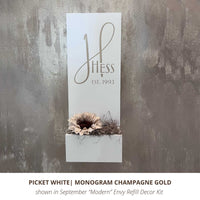 White Vertical Custom Exterior Home Entry Sign with Monogram | Great Wedding Gift
Description
Unique, wood custom home identification signs make beautiful and unique wedding gifts. The couple's new last name (or initial only) identifies their home, welcomes guests, and reassures delivery drivers they are at the correct house. The optional "Est." date makes it that much more personal. They will think of you every day when they come home and see their customized sign. It's truly a gift that lasts.

Each wedding gift sign includes a Wedding Envy Decor Kit with modern, seasonal wedding decor. You can add on an optional gift card for one to twelve months of Envy Refill Decor kits to make gift-giving flexible in pricing and a great "group gift." The new couple will LOVE receiving a new decor kit shipped each month to keep their entry effortlessly beautiful! We also include information with the sign so they know how to sign up for the decor kits on their own when their gift card is done.

We will send you a proof before production since every initial and last name look different!

Need more options? Click HERE to design a completely custom sign from scratch.
Information
• The colors and metal tones that you see on your screen are representative and may vary slightly from the actual product.
• All of our signs are handmade and custom, which means some
minor imperfections are normal and add to their beauty and charm.
• We are happy to provide a proof for our customers by request before production. We will contact you after your order is placed if we ever have any questions!
• Please click HERE for sign installation options and instructions.
• If you have any questions, please email social@entry-envy.com and we will be glad to help!
Details
Vertical: 9" x 24"
Horizontal: 24" x 11"
Over the Door: 9" x 12"
What a great way to spruce up your entryway monthly! The sign is high quality and beautiful. The decor items that arrive each month are as cute as can be. I'm sending these as Christmas gifts this year because I just love them!
This is Terry Parker and I was overwhelmed with the awesomeness of this thing. It is so updated and so cool yet when you put the flowers and things that they send you in it it has such charm and warmth about it! I just LOVE it and wait every month to see what is coming next!! I joined at just the right time - The holidays so every single one of the inserts have blown me away! And their customer service is the best I have ever seen. Seriously if you don't have one or you need a Christmas present for someone special this year THIS IS IT!!!! Hope you enjoy yours as much as I am enjoying mine💗
Beautiful gift for my mother in law
This is Terry Parker and I just received my Entry Envy with my Initial on it with 3 gorgeous arrangements to put in it. I am sure I will be buying more. The initial was the perfect choice for us because we are going to be purchasing a new house or building we don't know which yet so I do not know the address so this will be great for us!! It is great craftsmanship with fabulous florals you just can't go wrong with this company!! I would pick one up today!! Thank you Samantha at "The Pink Envelope " for letting me know about it!!!!💗
Entry sign
I love it! It was beautifully packaged upon opening. Almost didn't want to continue to open. 😉 Sign was very nicely made and the hanging instructions were easy to understand. Bonus was all the hardware was included. Definitely recommend!