Rated ⭐️⭐️⭐️⭐️⭐️ by 100+ Happy Customers!
Your family will love their entry decor. you'll love knowing it's done.
A personalized sign that helps identify "home," keeps their space in season with the current time of year, and we'll deliver joy to your mom or grandma for Christmas, and then again in the spring, summer, and fall.
ORDER NOW. LIMITED TIME OFFER.
Do you struggle to find a gift for your parents?
⭐️ This personalized sign will help them feel at home
⭐️ Makes their space relevant to the current season
⭐️ Provides an easy activity for them to do
⭐️ Can sit or hang (3M Command damage-free hook included)
⭐️ Thoughtful way to recognize the passage of time
⭐️ Order once with peace of mind we'll ship three more times throughout the year. Always free shipping! Monthly also available.
⭐️ 3-5 days production time.
Entry Envy Interior Signs are perfect for your parents and inlaws!
Hundreds of customers across the country love the joy of opening their Entry Envy Refill Decor Kits and being delighted with fresh, faux decor to style their entry and make their residence a welcoming place to come home to.

For a limited time, you can purchase a personalized interior sign with a prepaid quarterly subscription for a one-time charge of $149 ($199 value). We'll help you look like the favorite child in no time! Includes free gift wrap and shipping.
What to expect for $149
personalized sign
Custom sign in brown, black or white with a name or short greeting for your loved one to admire and identify their space. Lightweight, easy to hang or sit on a shelf. Includes 3M Command hook.
Winter decor kit
Adorn the custom sign with a beautiful, faux floral winter decor kit in a traditional style. We ship a variety of kits every month and love to surprise and delight our members! Easy to assemble and fun to do.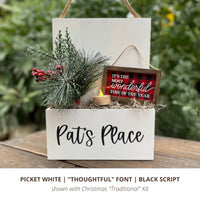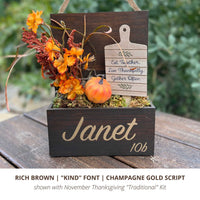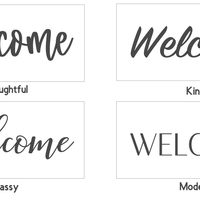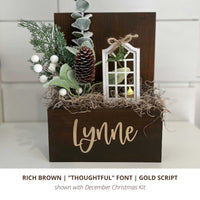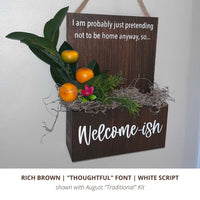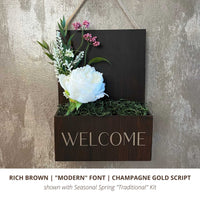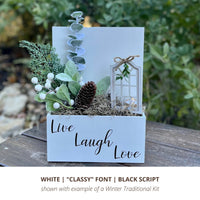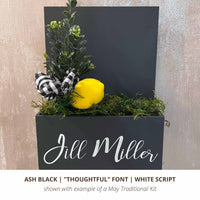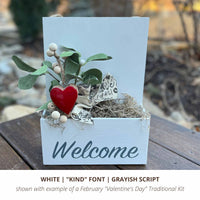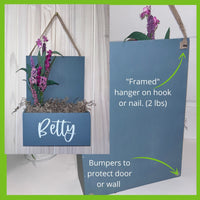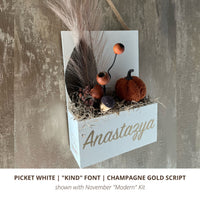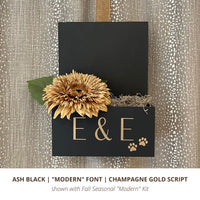 Personalized Sign with Four Seasonal Decor Kits
The perfect gift for grandmas! Unique, wood custom home identification sign with a custom greeting of your choice. These lightweight interior signs measure approximately 8.5" wide and 12" tall and weigh less than 2 pounds. They are perfect for apartment doors, independent living units, and assisted living communities. This $149 special one-time payment include your personalized sign, four seasonal kits, gift wrap and shipping!

The sign features a small planter box for our beautiful faux floral decor that requires no maintenance and always looks great! These are fabulous gifts for our beloved seniors to help them easily find their door, feel at home, and love their space. Not to mention, have a great looking door that will keep the neighbors visiting to see "what they got this time!"
Easy to switch decor (foam block insert stays in box) and provides a nice activity for seniors to look forward to.
Sit on shelf or hang (3M Command damage-free clear hook included)
Personalized sign ships with "winter" traditional decor kit
Next traditional, seasonal decor kits will ship on Feb 22, 2024 (Spring), May 22, 2024 (Summer), Aug 22, 2024 (Fall)
Includes free gift wrap and shipping
Monthly option is also available for $299 which includes all the holidays in addition to the seasons such as Christmas, Valentine's Day, Easter, etc. Decor kits ship on the 22nd of each month.
Decor is reusable year to year and can easily be saved and labeled in our nice boxes.
Please note, these signs are not designed for exterior use as they have not been properly sealed from the elements.
The gift that keeps on giving
Entry decor box shipped right to your door
Quality, classy and no maintenance
Easy to update in minutes
$149 | Custom Sign with 4 Seasons
What our Customers are Saying...
What do you get your mom or grandma?
They are the most loved and the hardest to shop for. Our Entry Envy signs allow you to send love all year. They will be surprised and delighted to get mail and be able to recognize the changing of the seasons in a thoughtful way. We also have "one time kits" that you can purchase for Easter or other specific holidays, so the next time you go visit or need a quick birthday gift, it will be easy to add to their refill decor kit collection. Best of all, faux lasts forever!
Shop Now
FAQ
Each sign is hand-made and takes up to 5 business days to complete! Once we ship your sign you should receive it within 5 business days. We will notify you via email when your sign ships.
We provide hanging instructions here
In most cases, yes! The items can be cleaned and stored for later re-use.
Yes! We include 3" multi-material screws that can be used in any surface. You will also need a carbide drill bit to pre-drill your hole. You can pick one up at your local hardware store or add to your order here.

For more information about how to hang on brick, stone and stucco, visit our specs and installation page.
The signs are quality wood, painted with two coats of exterior paint and sealed with a flat finish.

We expect our signs to be beautiful for many years and they are guaranteed for one year. Please see our Shipping & Return Policy for more information.
Either! The vertical and horizontal signs are sealed with an exterior finish to withstand weather, but they are lovely inside as well! All models can be hung on a wall or placed on a shelf or porch.
The answer is almost always yes. We absolutely do custom logos, custom QR codes, custom fonts, names, and even paint colors. Contact us via chat or email at jennifer@entry-envy.com to discuss customization.