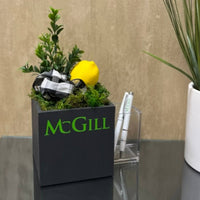 Business Envy Box with Pen Holder
Description
Enhance any of Business Envy boxes with a pen holder. These are beautiful, clear acrylic holders that are mounted with clear adhesive. Custom logos, social handles, and QR codes are also available as add-ons! Once you add this item to your cart, a popup window will allow you to add these features or you can use our search tool. Please contact us at social@entryenvy.com if you have any questions or are interested in bulk pricing. 
Information
Need help choosing? Email us a picture for a free virtual consult with our professional designers.
Monthly v. Seasonal Subscription
Jennifer explains the difference so you can make the best choice for you!
click here to subscribe for monthly or quarterly refills
WHICH STYLE DO I CHOOSE?
Entry Envy's designer, Jennifer, takes you behind the scenes to help you choose which style you might like best. Spoiler alert: they are all darling!