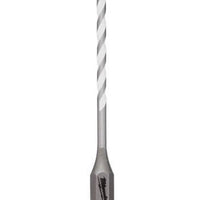 ⅛" Carbide Drill Bit for Masonry and Hardy Plank
Description
If you are installing your sign on brick, stone, stucco, or hardy plank, you will need a special drill bit designed to drill a pilot hole in these types of materials before you use the drill to put the screw in. If you don't, you'll tear apart your surface and break the screw.
When using the drill bit, be prepared for it to take some time. You're going to go several inches or simply "all the way in" to the base of the drill bit where it meets the drill. Go slow and be patient, you'll get the job done. Please refer to this installation video for further instructions and a demo. 
Information
Need help choosing? Email us a picture for a free virtual consult with our professional designers.
Monthly v. Seasonal Subscription
Jennifer explains the difference so you can make the best choice for you!
click here to subscribe for monthly or quarterly refills
WHICH STYLE DO I CHOOSE?
Entry Envy's designer, Jennifer, takes you behind the scenes to help you choose which style you might like best. Spoiler alert: they are all darling!