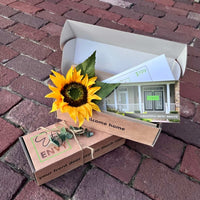 Wrapped Gift Card Box | Includes Shipping
Description
All of our gift cards are immediately emailed to the purchaser (gift giver) at checkout. However, we would be delighted to print your digital gift card and enclose it in a custom gift box with a nice instruction card on how to redeem it. We will even include your personal note on a complimentary gift enclosure card. It spends all the same, but wrapped presents are so much fun! The $5 charge includes gift wrap and shipping!

Please be sure to email us your gift card once you receive it to social@entryenvy.com if you would like us to wrap & snail mail it! :)  

Unfortunately, due to security reasons, we cannot print it without you emailing it to us. We apologize in advance for the inconvenience. Please be sure to check your junk mail if you don't see it within a few minutes after checkout. If you have any questions, please text or call us at 531.309.0018.
Information
Need help choosing? Email us a picture for a free virtual consult with our professional designers.
Monthly v. Seasonal Subscription
Jennifer explains the difference so you can make the best choice for you!
click here to subscribe for monthly or quarterly refills
WHICH STYLE DO I CHOOSE?
Entry Envy's designer, Jennifer, takes you behind the scenes to help you choose which style you might like best. Spoiler alert: they are all darling!